THE McBRIDE BROTHERS
....poster children for birth control
This site has permission from The McBride Brothers for the McBride Brothers and McBride related copyright material posted.
Welcome to the completely demented paradox that is McBride. This page has been designed with the sole intent to confuse, abuse, and toy with your head and to guide you in all things McBride. If you're new to The McBride Brothers this is where you can find out what you've been missing. And even if you're a dedicated fan; i.e. stalker, you can take the time to soak yourself in the essense only known as McBride.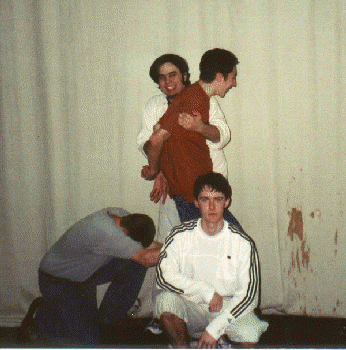 WHO ARE THEY?
The McBride Brothers, in all reality, are five high school students at Canterbury that were joined together, at the hip, and write and perform comedic sketches to be seen in morgues and hospitals around the country. Together they've created an off-beat, dark, often times insane type of humor. In the long run, they hope to have a television show, but for right now, perform live for the enjoyment of all.

THE McBRIDE BROTHERS?
z

HOW DID THEY MEET?
Grant * Jon * Kyle * Nick * Nathan
Toby * Winky * Sean * Jared * Simon
The McBride Brothers can be reached by E-MAIL
write to:
mcbride_brothers@hotmail.com
Or myself can be reached by E-MAIL
write to:
powholl@hotmail.com

Get all the latest news on The McBride Brothers ***LAST UPDATED 8/30/01***

Find your favorite McBride Brother transcripts here for your enjoyment ***4/11/01***

See the McBride Brothers in action with live photos ***6/1/01***

Go to the picture gallery to see those ever so photogenic brothers ***8/30/01***

See the links and related sites that the Brothers have mentioned ***8/27/01***
Like it or hate it we want your response to the page e-mail either address to tell us what you think and we'll decide whether your opinion is important or not.
McBRIDE BROTHERS © 2000, 2001 Meeker and Co. Productions. All rights reserved.
Webmaster POWholl@hotmail.com