THE McBRIDE BROTHERS
....poster children for birth control
This site has permission from The McBride Brothers for the McBride Brothers and McBride related copyright material posted.
Greetings and salutations. This website has been designed to guide, confuse and, quite likely, concern you in regard to all things related to the McBride Brothers comedy troupe. Good luck.
---
UPDATED: Oct. 7, 2005
*NEWS*
*TOUR DATES*
Jump to...
---
WE ASKED FOR YEARS THAT YOU STAY TUNED FOR AN EXCITING ANNOUNCEMENT! UNFORTUNATELY THAT ANNOUNCEMENT PROBABLY WILL NEVER ACTUALLY HAPPEN! PERHAPS I CAN NOW SPEND MY TIME FIGURING OUT HOW TO TURN OFF CAPS LOCK!
---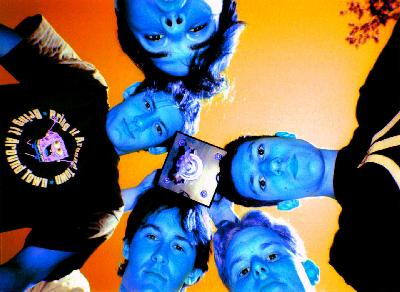 WHO ARE THEY?
The McBride Brothers are a sketch comedy troupe from renowned comedy capital Ft. Wayne, IN. Formed while attending the same high school, they've spent years cultivating a bizarrely original brand of humor that will perplex sociologists and pediatrists for centuries. They are the authors of "The A.D.D. Channel", "The Perfect Duo" and the award winning feature "Election Day."
HOW DID IT BEGIN?
During the Great Famine, our Great Great Grandfather Cecil McBride was faced with a Sophie's choice: he would either sell his Whiskey Farm or Sophie the comedy troupe he'd cobbled together from spare leather and sheep intestines. He sold the farm, believing comedy was more valuable for laughter was the best medicine. Unfortunately, laughter proved no match for cholera and Cecil died during the boat ride from Ireland. Cecil's lone child, a son named Seamus, carried the comedy troupe the rest of the way to America. Along the way, the comedy troupe fought alongside Seamus McBride in the Civil War, formed the Bull Moose Party with Teddy Roosevelt and Fergal McBride, and co-created the television show 'Small Wonder' with our mother, Meeker McBride, who eventually bequeathed it to (upon?) us.
*
*
Grant * Jon * Kyle * Nick * Nathan
Toby * Winky * Sean * Jared * Simon
*
*
The McBride Brothers can be reached exclusively by carrier pigeons. Good luck.

TMB news - All the latest (or what once may have been considered "latest")

TMB Press - find articles, reviews, and whatnot here (it's 87% whatnot)

Election Day - page dedicated to news, promotions, and more for TMB's first feature-lengthed film

TMB Transcripts - meticulously archived for the benefit of no one

TMB Diary - if you're a fan of nonsense, you should read these lame musings by the brothers and then probably go outside

TMB Message board - Because we care

TMB Live photo gallery - Photos. Live. See them.

TMB Slightly Less Live photo gallery - Who doesn't like a McBride Brother in a dress?

TMB online store - Straight cash, homies

The Squad - fan club and street-team for TMB

TMB Links - Clickity click click click
McBRIDE BROTHERS © 1850-2006 Meeker and Co. Productions. All rights reserved.